It's
Skirt Week
over at
Crafterhours
.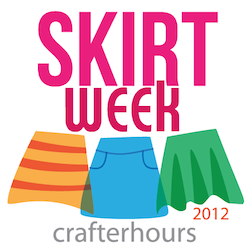 I'll just say it right out loud.
Sewing clothing terrifies me.
All that work, and it might not fit right, one mistake, and the outfit is ruined. Terrifying.
Skirts, on the other hand, easy.
About two years ago, I wanted a black linen skirt. When I couldn't find one in the stores, I did what any sewer would do, and made my own. Right now I have 4 or 5 skirts that I've made myself.
This one I just finished. Kona Charcoal, and one of my favorite fabrics (AMH of course). It's basically the same design as every other skirt I've sewn, a basic 6 gore 1/2 circle skirt. It's hard to see in the photo, but I made it with an extra panel, so it's a faux wrap skirt.
It's a little heavy looking for summer, I think I can pull it off though. And I know it will be a great fall / winter skirt.